Small forest garden notes
1. Plants
Canopy
Shrubs
Herbaceous perennials

Herb border

Lavender (compact, hardy)
Rosemary
Oregano
Thyme
Sage
Fennel
Mint bed (apple mint or spearmint)

Hedge border
Pavement border

Perennial Kale / Tree Cabbage

Cherry bed

Ground cover
Climber

Hop 'First Gold/Prima Donna' dwarf
2. Images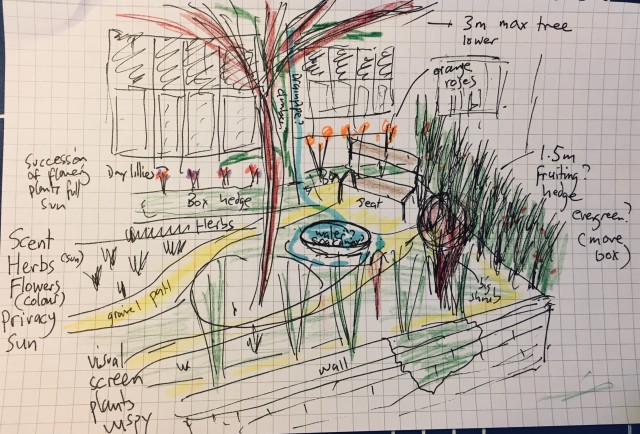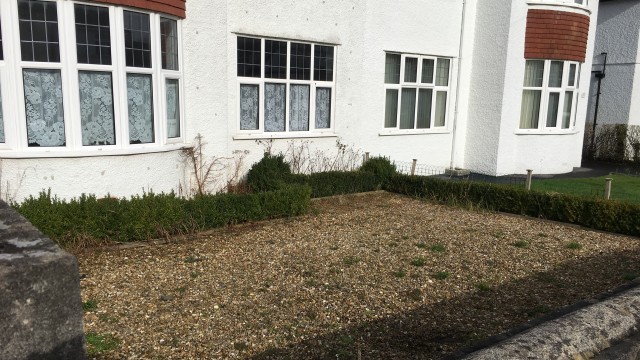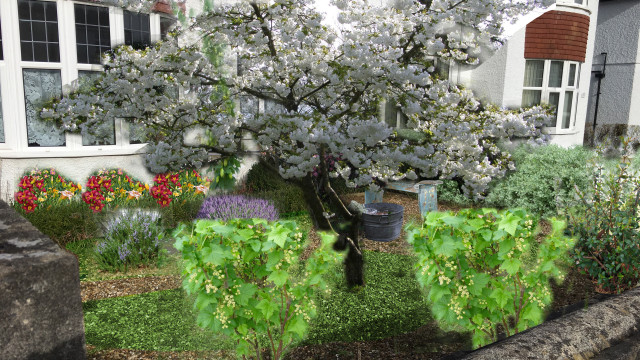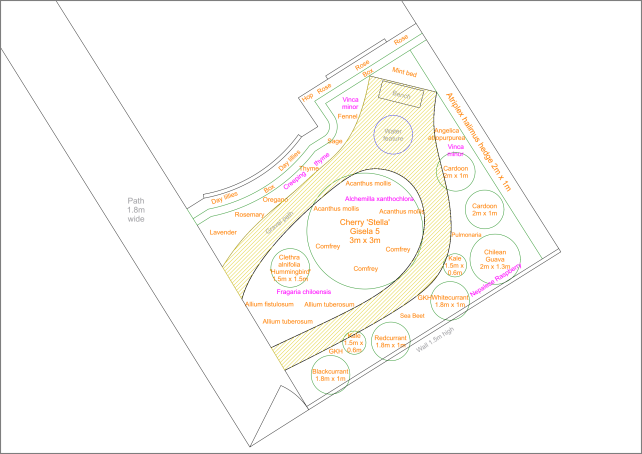 The original PDF file, version 0.13: https://res.cloudinary.com/growdigital/image/upload/v1552397014/diana_0.13.pdf
---
3. Design notes
Intro
The small forest garden makeover is a collaboration between Candace, Permaculture Tywi and Jake Rayson. Jake wanted a small garden project as material for a magazine article.
It is the south-facing front garden of a 1920s semi-detached property with a bay window, currently lined with weed suppressant fabric and gravel, with a box hedge on the north and east edges, and a 1.5m block wall to the front.
Groundwork
Soil! Test the soil!
Remove box hedge bordering the neighbour.
Move the gravel, possibly on to the path. Possibly use some gravel to lighten the soil for hedge if plants require it.
Mark out the path on the weed fabric, cut fabric from beds,
Put in path edging to keep gravel in place (tricky, not sure what material & how to bend edging). Put gravel back on path.
Create water feature eg sunken old Belfast Sink, with stones up to and in pond to aid wildlife.
Planting
Plant notes
House bed
Day lillies, was thinking yellow colours, would contrast beautifully with glossy green box.
Also, think of companion plants for day lillies, something similar height which flowers at different time of year.
The hop First Gold/Prima Donna is a dwarf variety (2m-3m), to a couple of metres, far more manageable. Herbaceous perennial, dies back each winter.
The bed in front of the window should be ideal for mediterranean herbs. Plus some lavender! No brutish varieties, want to leave some space behind for box.
Creeping thyme would be a good ground cover, possibly some Vinca minor by the bench.
Fennel is brilliant, tall and feathery, loved by insects.
Keep existing roses.
Water feature area
Don't have to have a bench there! You can always try one out temporarily.
Mint (apple mint, spear mint?) would be good fragrance and good bee plants.
Hedge with neighbour area
The choice of hedging is critical. You don't want anything too rampant or tall. Atriplex halimus (Salt Bush) grows to 2m height and can be clipped to keep width to 1m wide. Need to be careful to plant 0.5m on your side!
Angelica atropurpurea is a perennial growing to 3m, will show behind the perennial Cardoon/Artichoke.
Was thinking Vinca minor ground cover down that side.
Pulmonaria vulgaris?, really good spring bee plant.
Wall border
Nepalese Raspberry ground cover. Slow to get established but evergreen and lovely flowers and fruit, and copes with shade.
The Chilean Guava (available from lovely nursery in St Davids if you're ever that way) is a plant that likes sun and shelter. Will provide a screen as well toward water feature area.
Currants as screen and fruit along the wall. They should grow up above line of wall and provide a light screen as well good flowers for bees and fruit.
Variety of perennial kale, Good King Henry and Sea Beet inbetween. Some kale can grow to 2m!!
Tree bed
The Stella cherry is the star of the show, self-fertile. Gisela 5 rootstock needs to be staked permanently.
On one side, lovely combination of lime-green Alchemilla xanthocolora (Lady's Mantle) ground cover with glossy green spires of Acanthus mollis (Bears Breeches) rising up. Both deal with dry shade.
Use a strawberry ground cover for rest of bed; I've put down Fragaria chiloensis as a good performer but any densely planted strawberry should do the trick.
Big clumps of 'Bocking 14' comfrey under the cherry true, chop 'n' drop fertiliser for tree, plus fantastic bee plant.
I've added Allium fisulosum (Welsh Onion) as can use like a spring onion. Allium tuberosum (Chinese Chives) have a more garlicky flavour, with beautiful white flowers. Not sure about the odour, I haven't noticed a particularly onion smell!
Clethra alnifolia (Sweet Pepper Bush) is a plant I haven't tried, I wanted something with fragrance for that spot by the path and in the sun. The variety 'Hummingbird' is smaller.
---
4. Plant supply
Jake

Allium tuberosum
Allium fistulosum
Vinca minor
Nepalese Raspberry
Fragaria chiloensis
---
This page online: https://app.simplenote.com/publish/vZRfKm